Welcome to RAL Technology
At RAL Technology, we are all about cycling and cycling technology. Our passion is bikes and ways to make them faster. By providing innovative products and solutions, RALTech is committed to maximising and enhancing the performance of anyone who wants to go faster on a bicycle.
This website features products manufactured exclusively by RALTech and provides discussion articles to assist anyone looking to find more speed when cycling. Links are provided to reference articles to help assess the most effective way to increase your speed.
Rick Laws
Chief Engineer - RAL Technology
News
Over recent months, we have been experimenting with new suppliers and new carbon fabrics and we have managed to produce a new model of wheelcover which is even lighter than our existing range. Wheelcovers for shallow rims in the new 'Ultra' layup are down to just 290g, all-up. Fitting a set to your 80mm deep rims adds less than 200g to the overall wheel weight.
This ultralight performance is topped off with exclusive graphics in either gold or silver. Go to our wheelcovers page to find the full story.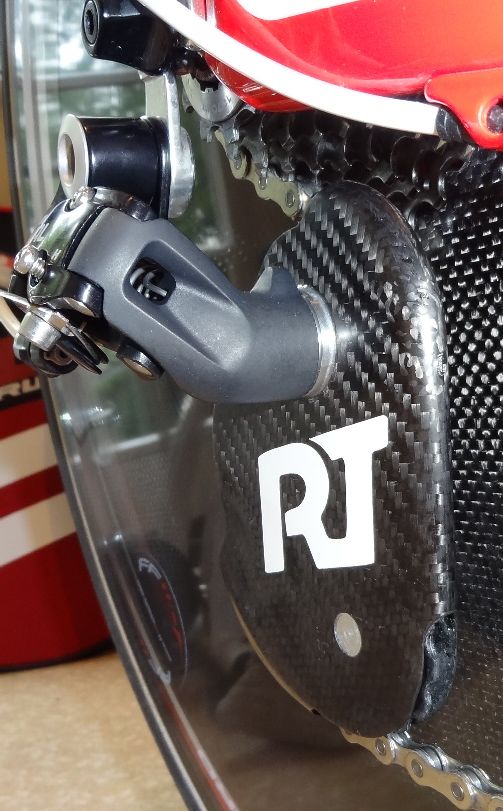 The Aero Derailleur Cage is now available in versions to suit almost all models of Shimano (including Di2), Campagnolo (9, 10, 11-speed) and SRAM.
The slippery monocoque design encloses a pair of 11-tooth ceramic-bearing pulleys, to give excellent mechanical efficiency as well as low aerodynamic drag. Knock those last few seconds off your PB.

Upcoming events where RAL Technology will be attending; feel free to come and have a chat:-
Wow! That was quick. Another season over. Looking forward to seeing everyone again next year.