Transmission
On this page:-
Aero Monocoque Derailleur Cage
Derailleurs, front and rear, remain one of the few areas not to have received any significant aerodynamic treatment by the big manufacturers. Indeed, the basic design and geometry hasn't changed since the slant-parallelogram come along in the 1960's. Whilst not at the top of the list for aerodynamic improvements for most bikes, swapping out your rear derailleur cage for an aero cage can provide very worthwhile gains. Analysis suggests power savings of up to 1.5W at 30mph, worth nearly 5 seconds over 25 miles.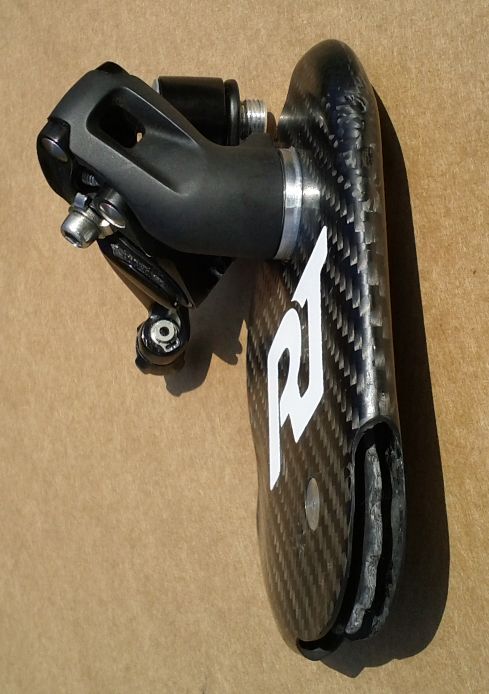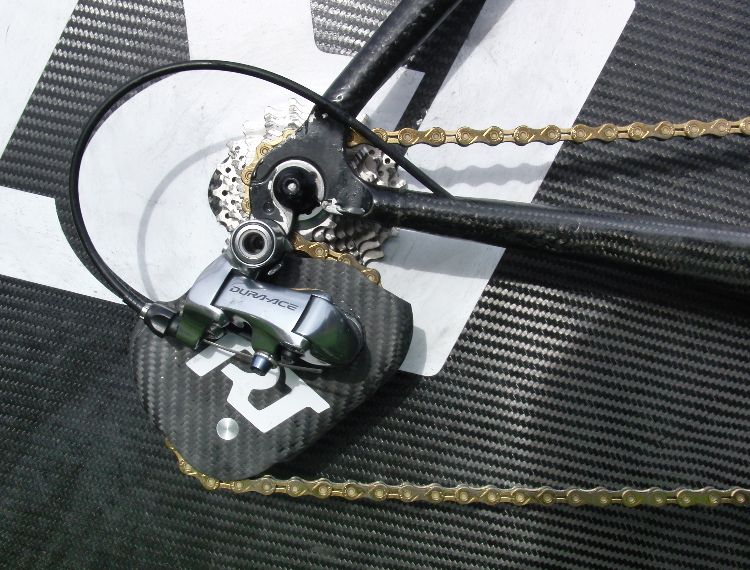 The RALTech Aero Derailleur Cage is a true monocoque design; both torsional and bending rigidity are enhanced by using the entire shape of the cage. This allows the cage thickness to be dramatically reduced and is why there is NO WEIGHT PENALTY compared to the standard part. Each cage uses the same oversize pulleys with ceramic bearings, as available described below. Thus improved aerodynamics comes with improved mechanical efficiency, too.
Cages are now available to suit most SRAM, Shimano (including Di2) and Campagnolo rear derailleurs.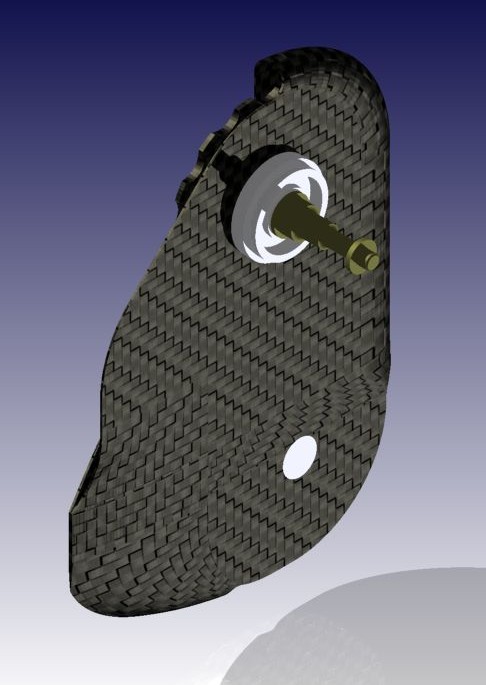 If you can't justify or simply can't fit the full aero derailleur cage to your bike, then you could consider a set of oversize pulleys.
There are a number of potential advantages to fitting aftermarket derailleur pulleys:-
They generally have better, free-running bearings,
Larger diameter pulleys reduce rotational speed of the pulley,
Larger diameter pulleys reduce the bend angle for each link in the chain.
Some sources have claimed >5W of power savings. Unless your current pulley bearings are pretty seriously gummed up, I think this is a little optimistic. Recent tests by Friction Facts show a power saving in the order of ~1W, which is a more credible figure. This sounds tiny, but is worth a saving of about 4 seconds on your '25' time. Even more significant time savings can be made by combining larger and lower-friction pulleys with the RALTech Aero Derailleur Cage, described above.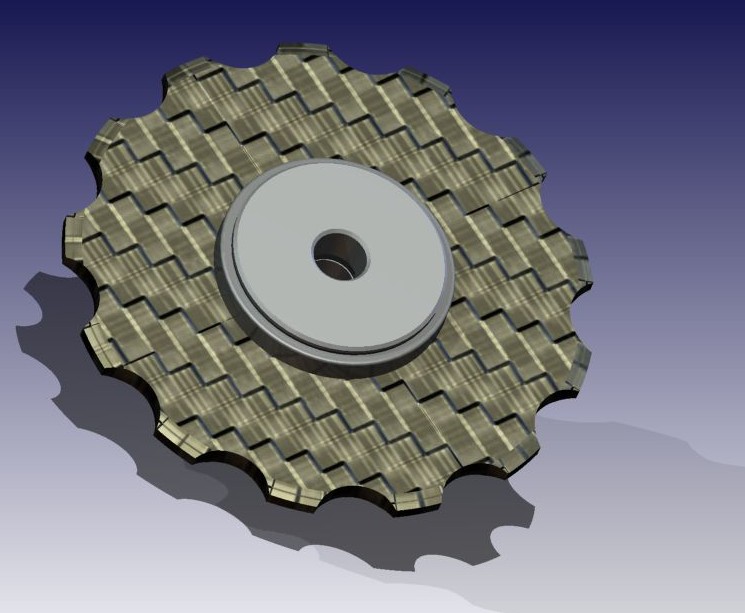 RALTech gear pulleys are available to suit Shimano, Campagnolo or SRAM rear derailleurs and feature lightweight carbon-fibre rotors. The rotors spin on ABEC grade 7 precision hybrid ceramic ball-bearings with frictionless non-contacting dust shields. 11-tooth pulleys are recommended for standard cages. 13-teeth and 15-teeth should only be used where there is sufficient cage length to ensure chain clearance between the pulleys.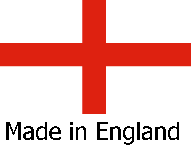 Available to buy now:-
Aero Derailleur Cage, including ceramic 13-tooth pulleys.
Price: £215.00
(Includes P&P to the UK.
International customers, please ask about postage rates.)

*******************
Online ordering is currently unavailable as we are temporarily unable to service demand.
*******************
Derailleur Cage Fitting Instructions:-
• SRAM
• Shimano 'A'
• Shimano 'B'
• Campagnolo

Carbon/Ceramic Pulleys
Shimano - 11, 13 or 15T
Campagnolo - 11, 13
or 15T
SRAM - 11, 13 or 15T
*******************
Online ordering is currently unavailable as we are temporarily unable to service demand.
*******************